Scenic USA - Connecticut
Each day Scenic USA presents a new and interesting photo feature from somewhere in the United States. Chosen from a wide variety
of historic sites, city scenes, backcountry byways, points of interest and America's best parklands, this site offers the viewer hundreds
of unique vacation destinations and photographic subjects. Each feature is coupled with a brief explanation. For further detailed
information, links to other sites are provided, but are never to be considered an endorsement.
Buttermilk Falls - Terryville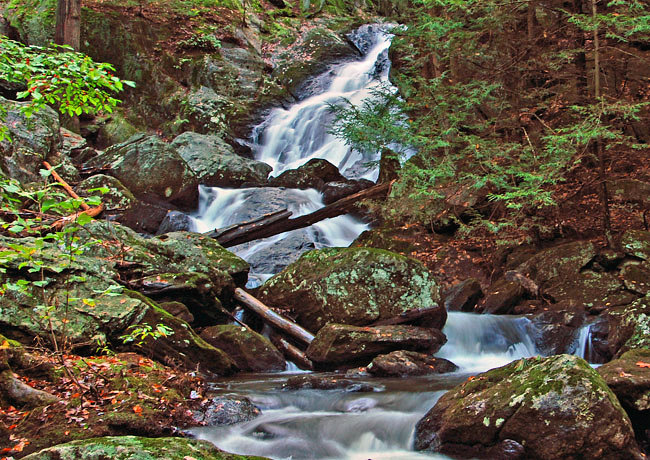 Every so often waterfall web sites list roadside attractions that sound easy to locate. Sometimes that proves to be more challenging than hiking out to the waterfall. Getting to this Buttermilk Falls, located on the Mattatuck Trail, is one of those waterfall sites that looks easy on paper, but offers a little challenge in following directions.
The blue blazed Mattatuck Trail weaves in and out of a mixture of forest land, suburban neighborhoods, wetlands and rocky terrain in Connecticut's Litchfield Hills. Following a general southeast direction from Litchfield to Wolcott, the 38 mile trail passes through the Buttermilk Falls area. For the casual sightseer, from the intersection of South Main and Lane Hill Road, south of Terryville, Lane Hill Road climbs toward Allentown Road. Within a tenth of a mile an indistinguishable pull-out on Lane Hill Road marks the trailhead out to the falls. A short trail crosses a wooden footbridge and through a forest of hemlocks to this roadside attraction. Governed by the Nature Conservancy, this beautiful 55 foot cascade is one of Connecticut's hidden gems.
Beginning with a gift of 723 acres in 1926, Connecticut's Mattatuck State Forest has grown to encompass 4510 acres in 20 different parcels throughout the towns of Waterbury, Plymouth, Thomaston, Watertown, Litchfield, and Harwinton. Since Harley F. Roberts' original gift of land 85 years ago, many have benefited from his vision of land conservation. The well managed Mattatuck State Forest is still used for forest products and wildlife habitat, as well as offering miles of rugged trails for hiking and hunting.
Copyright © 2011 Benjamin Prepelka
All Rights Reserved