Scenic USA - Georgia
Each day Scenic USA presents a new and interesting photo feature from somewhere in the United States. Chosen from a wide variety
of historic sites, city scenes, backcountry byways, points of interest and America's best parklands, this site offers the viewer hundreds
of unique vacation destinations and photographic subjects. Each feature is coupled with a brief explanation. For further detailed
information, links to other sites are provided, but are never to be considered an endorsement.
Noontootla Creek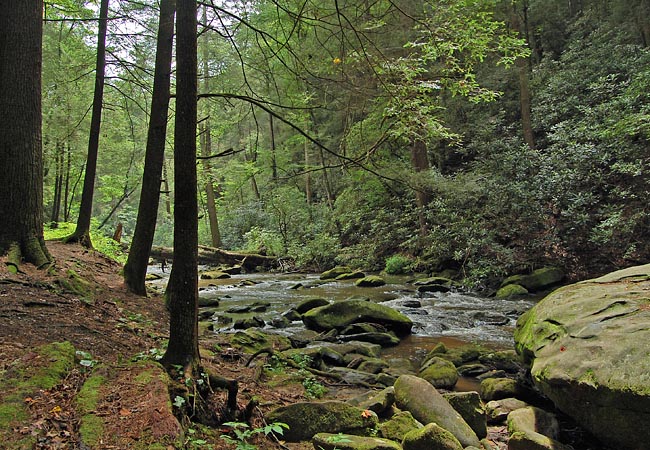 About 20 miles south of the town of Blue Ridge, a dirt and gravel USFS Road 58 climbs through a dense Chattahoochee National Forest. This area of Fannin County is known as the Trout Capital of Georgia. Just as Aska Road follows the Toccoa River, Forest Road 58 also mirrors Noontootla Creek. As the Noontootla descends toward the Toccoa, fast moving riffles, deep pools and undercut banks provide the perfect habitat for wild trout, an angler's paradise.
The creek is locked in the shade of a thick tree canopy and the banks are lined with rhododendron. The fast moving stream is littered with rounded stones and truck-sized boulders.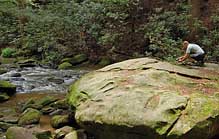 Occasionally, a level river bank area, carpeted in pine needles, makes a cozy camping area. Surrounded by the beauty of nature, serenaded by a cascading brook and having one of the best trout streams at your feet, could this be any better?
If you're not into fishing, this section of Fannin County is also a great place for kayaking and tubing. Imagine a lazy float trip down the Toccoa, or taking on the Toccoa River Canoe Trail.
With three-quarter million acres of forestland, 10 wilderness areas, countless waterfalls, 1300 miles of trout streams, and 430 miles of hiking trails, the Blue Ridge district is hard to beat for outdoor adventure and sightseeing.
Copyright 2011 © Benjamin Prepelka
All Rights Reserved