Scenic USA - Illinois
Each day Scenic USA presents a new and interesting photo feature from somewhere in the United States. Chosen from a wide variety
of historic sites, city scenes, backcountry byways, points of interest and America's best parklands, this site offers the viewer hundreds
of unique vacation destinations and photographic subjects. Each feature is coupled with a brief explanation. For further detailed
information, links to other sites are provided, but are never to be considered an endorsement.
Wildcat Canyon Falls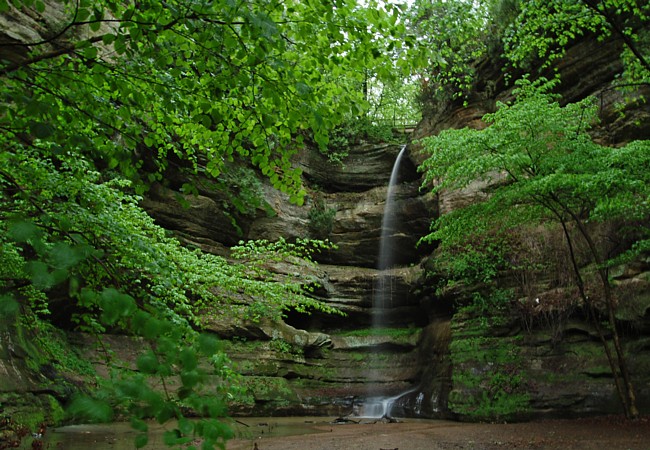 One of the most popular Illinois state parks is also one with a most intriguing name. Centered on a string of canyons spaced along the Illinois River, Starved Rock State Park offers a wide variety of park activities that vary from fishing and boating, to hiking and horseback riding. Known as the Sauger Capitol of the World, Starved Rock draws competitive anglers from all around the state. Along with plentiful saugar, the river waters hold a variety of bullhead, white bass, walleye, catfish and crappie.
Whether you are fishing, hiking, or just plain relaxing, comfortable cabins and the Starved Rock Lodge allow for a pleasant overnight stay.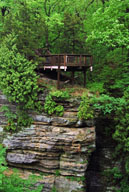 Built in the 30s by the Civilian Conservation Corps, the historic dining room and Back Door Lounge offer a cozy atmosphere with one of the largest two sided fireplaces you'll ever see.
Stretched out along the south side of the Illinois River, 18 different canyons are cut into the high, sandstone bluff line. Made up of St. Peter sandstone, the ancient Starved Rock canyons are now covered in mosses and ferns. A photographer's delight, each canyon setting is a little different. These intriguing canyons have a way of drawing everyone further away from the visitor center. Boardwalks, well worn paths, footbridges and stairs make the going a little easier. Pictured here is the beautiful 75 foot Wildcat Canyon Waterfall setting.
Intrigued by the Starved Rock name? A 1700s legend describes a war between two bands of Indians. After taking refuge on a rock promontory, the Illiniwek Band died of starvation when trapped there by the Ottawa tribe.
One of the oldest parklands in the state, residents and visitors find Starved Rock and adjacent Matthiessen State Park an extraordinary place to spend the week.
Copyright © 2011 Benjamin Prepelka
All Rights Reserved