Scenic USA - West Virginia
Scenic USA offers a collection of select photographs from a wide variety of attractions, points of interest, historic sites, state and
national parks found throughout the United States. Each photo feature is coupled with a brief explanation.
For further detailed information, links to other related sites are provided.
Blackwater Falls
Blackwater Falls State Park is one of the most popular parks in West Virginia. The grounds, centered around the amber Blackwater River and the main falls (Blackwater Falls), hold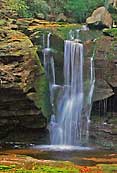 one of the most beautiful settings in the state. The park is situated at the northern edge of the Monongahela National Forest and the Cheat Mountain Range. Blackwater Canyon extends eight miles through the park and offers wonderful views, such as this scene. Trails weave along both sides of the gorge, that also lead to other cascading falls, Elakala, Pendleton and Falls Run.
The rugged, heavily wooded park is just one of the countless recreation areas and state parks found in the Monongahela Forest. Blackwater Falls Park also offers camping, mountain biking, 20 miles of backcountry trails and 2,457 acres of wild and wonderful West Virginia landscapes.
Copyright ©2007 Benjamin Prepelka
All Rights Reserved