Scenic USA - Connecticut
Scenic USA offers a collection of select photographs from a wide variety of attractions, points of interest, historic sites, state parks and
national parks found throughout the United States. Each photo feature is coupled with a brief explanation.
For further detailed information, links to other related sites are provided.
Essex Steam Train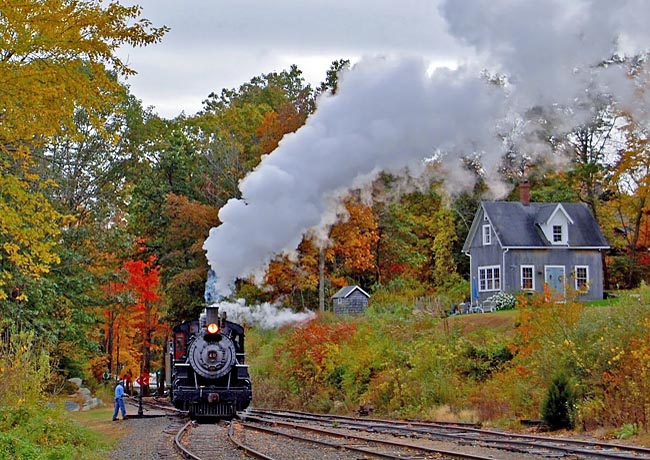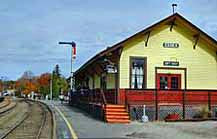 Operating out of Essex for well over a century, the Valley Railroad tracks still follow along the beautiful Connecticut River Valley, but now offer a scenic excursion run. One of the highlight train trips takes place in the fall season, taking passengers through a blazing forest of color and picturesque riverfront settings. The cool fall air and falling leaves turn an already scenic Connecticut River Valley into a showcase of autumn's best.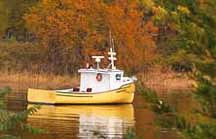 A short excursion run treats passengers to a pleasant mixture of picturesque farms, the small towns of Deep River and Chester, plus the tidal wetlands of Pratt Cove and Chester Creek, and soothing views of the Connecticut River Valley. The 12 mile trip, out and back, takes about an hour.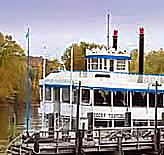 At the Deep River Station, some passengers extend their tour by taking the river boat Becky Thatcher. Riverboats guests are introduced to a scenic Connecticut River, graced with water birds and eagles. Some of the manmade highlights include river front homes, the Goodspeed Opera House, the Chester-Hadlyme Ferry, and Gillette Castle.
The Essex Steam Train is lead by a pair of old reliable ALCO engines. The crew's favorite #40 was built in 1920 and joined the VRR (Valley Railroad) in 1977. The 2-8-2 Mikado is captured here getting set for the return trip from the Chester Station with a strong hint of Connecticut's fall foliage.
Copyright ©2010 Benjamin Prepelka
All Rights Reserved