Scenic USA - Utah
Scenic USA offers a collection of select photographs from a wide variety of attractions, points of interest, historic sites, state and
national parks found throughout the United States. Each photo feature is coupled with a brief explanation.
For further detailed information, links to other related sites are provided.
La Sal Mountain Loop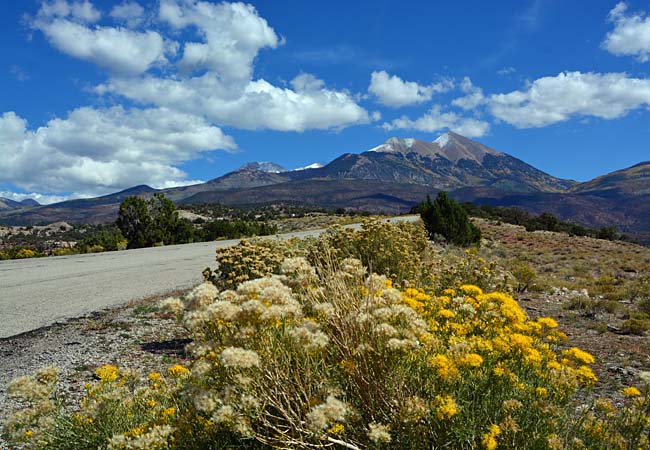 Creating a beautiful backdrop for the town of Moab, a snow capped La Sal Range covers a large portion of Utah's eastern border. Moab is said to be the gateway to Arches and Canyonlands national parks, Dead Horse Point State Park, the Colorado River and the dramatic La Sal Mountains. Rising above the red rock canyon country of southeastern Utah, the La Sals add an unequalled dimension to canyonlands scenery, showing up in countless Arches and Canyonlands photographs.
Although numerous trails provide good hiking and biking outings in the Manti-La Sal National Forest, its beauty can also be enjoyed by taking the La Sal Mountain Loop Road Scenic Backway. The U.S. Forest La Sal Division at Moab is just a part of the million and a half acre Manti-La Sal National Forest in southeastern Utah. Beginning on U.S. Route 191, six miles south of Moab, the byway climbs through canyons and forest land on the way up to the peaks at 12,000 foot elevation on Forest Road 62. The cool mountains and lush greenery provide a stark contrast to the hot red rock desert land just below in Castle Valley. Continuing north on Castle Valley Road, the byway ends on Route 128 about 18 miles out of Moab.
Copyright ©2008 Benjamin Prepelka
All Rights Reserved