Scenic USA - Montana
Scenic USA offers a collection of select photographs from a wide variety of attractions, points of interest, historic sites, state and
national parks found throughout the United States. Each photo feature is coupled with a brief explanation.
For further detailed information, links to other related sites are provided.
Little Bighorn Battlefield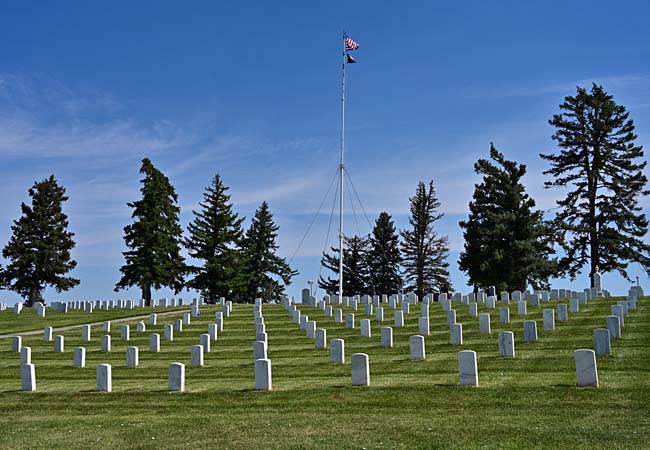 More than a 125 years have passed since the Great Sioux War and President Grantís attempt to control nomadic Native Americans that roamed throughout the Yellowstone and Powder river valleys. In 1991, President George Bush signed into law a change in name for the Little Bighorn Battlefield National Monument, no longer focusing complete attention on Lt. Col. George A. Custer and his troops. Today, the park encourages peace among all races with a theme of peace through unity. The Indian Memorial at this national monument is contained in a circular earthwork not far from the 7th Calvary Monument.
One of Americaís most famous battles of the Plains Wars recalls Custerís poorly planned advancement into a huge camp of Cheyenne, Lakota (Sioux) and Arapahoe. Often recounted as Custerís Last Stand, the 7th Cavalry encountered at least 1,500 warriors. Custer and all 262 soldiers were killed, sending a shock wave throughout America. This surprising coup along the Little Bighorn River convinced U.S. Government troops to be more cautious. The military followed and harassed the Lakota for five more years, finally forcing most of the remaining Indians onto a reservation. Sporadic resistance continued until the 20th Century, when brutal tactics eventually sapped the Native Americanís will.
Copyright ©2009 Benjamin Prepelka
All Rights Reserved