Scenic USA - Wyoming
Each day Scenic USA presents a new and interesting photo feature from somewhere in the United States. Chosen from a wide variety
of historic sites, city scenes, backcountry byways, points of interest and America's best parklands, this site offers the viewer hundreds
of unique vacation destinations and photographic subjects. Each feature is coupled with a brief explanation. For further detailed
information, links to other sites are provided, but are never to be considered an endorsement.
Minerva Terrace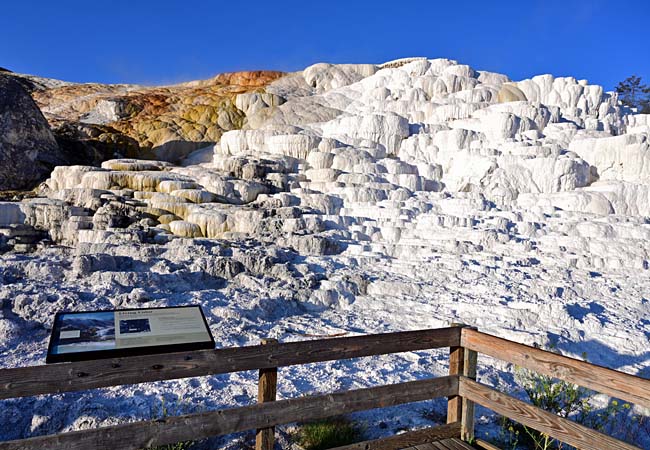 Hidden beneath the surface and going unnoticed by meandering bison herds, grazing elk and millions of park visitors, Yellowstone's immense underground furnace lies under a thin layer of the earth's crust. Spreading over two million acres, America's first national park gives quite a few hints that something here in Wyoming's northwestern corner is highly unusual. Wispy clouds of steam, bubbling mud pots, and towering geysers are some of the reminders that the park rests on top of one of the largest and most active calderas in the world. Over the past two million years, Yellowstone has experience three major eruptions, two of which are thought to be among the largest eruptions on Earth.
Although the park offers 1200 miles of hiking trails, most of the park's three million annual visitors don't stray far from the park's 350 miles of paved roadways.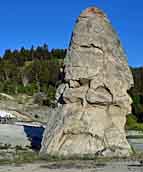 Here near the park's north entrance and Mammoth Hot Springs visitors are treated to more of Yellowstone's wonders. Located on the Morris-Mammoth Fault, hot water is pushed to the surface, carrying dissolved calcium and bicarbonate. The Minerva Terrace is one of the most colorful deposits of travertine in the park. Going from periods of inactive to active deposits, this terraced formation can appear much different in a relatively short period of time. Its natural stair steps, colored with thermophiles, once made an inviting platform for Yellowstone portraits. Today, visitors are highly encouraged to view all of these geothermal features from boardwalks and pathways. Along with the popular Minerva Terrace, the huge 45 foot tall Liberty Cap is also a travertine deposit. Named by the 1871 Hayden Expedition, the cone was thought to resemble the cap worn by Colonial patriots during the Revolutionary War.
Copyright © 2011 Benjamin Prepelka
All Rights Reserved