Scenic USA - Washington
Scenic USA offers a collection of select photographs from a wide variety of attractions, points of interest, historic sites, state parks and
national parks found throughout the United States. Each photo feature is coupled with a brief explanation.
For further detailed information, links to other related sites are provided.
Palouse River Canyon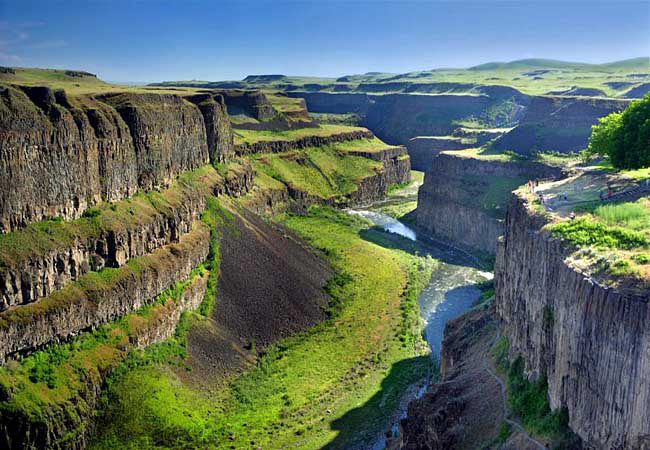 Words arenít adequate to sufficiently describe the powerful forces of flowing water. But here in eastern Washington the scablands of Cheney-Palouse are a great example of what a massive flood will do. One of the catastrophic ice age events saw incredible amounts of water sweep across the tilted surface of the Palouse, strip away hundreds of feet of topsoil and carve up layers of ancient basalt, creating coulees and steep-walled canyons.
This view captures the Palouse River and canyon in southeast Washington, an area created during the Pleistocene Epoch. Weaknesses in the Columbia Basin basalt (lava beds over 6,000 feet in depth) gave way to the force flood waters, seen in todayís channeled scablands.
Not all of the Palouse Region is scarred badlands. Rolling hills of beautiful farmland on the Palouse are important for grain production. This basin-and-butte topography offers a long list of dramatic scenery. The Palouse River Canyon and Palouse Falls are two of the areaís very impressive natural wonders.
Copyright ©2010 Benjamin Prepelka
All Rights Reserved