Scenic USA - Alaska
Scenic USA offers a collection of select photographs from a wide variety of attractions, points of interest, historic sites, state and
national parks found throughout the United States. Each photo feature is coupled with a brief explanation.
For further detailed information, links to other related sites are provided.
Kenai River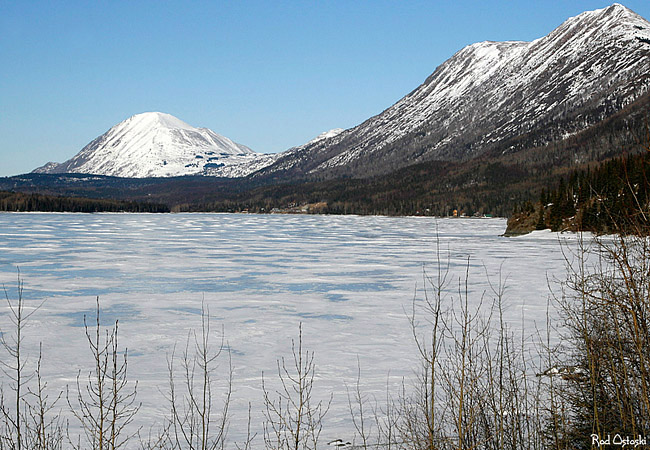 The Sterling Highway begins 90 miles south of Anchorage, branching off the Seward Highway at Tern Lake, it heads south to Homer, Alaska. This route winds along the western edge of the Kenai Peninsula, through majestic mountain scenery, and passes picturesque lakes and glacial streams for 142 miles. Pictured here is just a glimpse of this splendid land, a view from the overlook at Cooper Landing. The river begins here at Lake Kenai in the Kenai Range, and flows southward. Consider the size of Alaska; and when it's heard that the Kenai River is the most popular sport fishing destination in the state, that's really saying something! The rainbow trout and Dolly Varden here are talked about in trophy size terms. Two yearly runs of salmon, and naturally, the world record king salmon.
The Kenai Peninsula has been home to the Kenaitze Indians for hundreds of years, but discoveries of the area's rich natural resources have attracted non-native developers. The highway was built in the late 1940s, part of Alaska's Route 1, and has since added spurs for oil exploration. Despite its industrial aspects, the corridor, for the most part, remains a wild and beautiful drive.
Copyright ©2009 Benjamin Prepelka
All Rights Reserved