Scenic USA - North Carolina
Scenic USA offers a collection of select photographs from a wide variety of attractions, points of interest, historic sites, state and
national parks found throughout the United States. Each photo feature is coupled with a brief explanation.
For further detailed information, links to other related sites are provided.
Tweetsie Railroad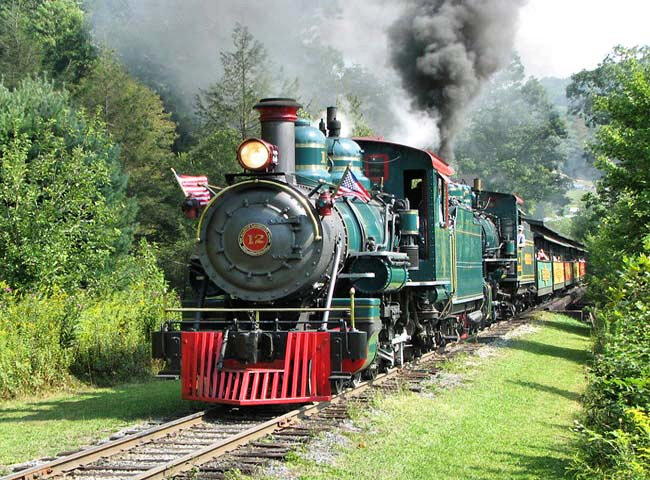 The Tweet Tweet of a vintage Baldwin locomotive still echoes through the Blue Ridge Mountains of North Carolina. Nearby the town of Blowing Rock, the Tweetsie Railroad features an old-fashioned attraction for family fun. Recently celebrating its 50th anniversary, the park has evolved into a full scale attraction.
Main Street attractions, along with the train depot, include a shooting gallery, arcade, 1800s saloon, and nearby playground, carnival rides, gem mining and gold panning. The main attraction of the park is still the thrilling ride through the mountains aboard old #12, a steam powered locomotive that's logged thousands of miles over the last 92 years.
Today's rail line follows the narrow gauge tracks of the old East Tennessee & West Carolina Railroad, where the train hauled freight and passengers over the mountains. Tweetsie's scenic tours began in 1957, following part of a 66 mile run over the Appalachians from Boone to Johnson City, Tennessee. The Tweetsie soon became one of the top attractions in the Boone area. Adding to the thrills of the younger travelers, the train was frequently attacked by Indians, or passengers robbed at gunpoint, part of the Wild West theme.
Copyright ©2006-2009 Benjamin Prepelka
All Rights Reserved