Scenic USA - West Virginia
Scenic USA offers a collection of select photographs from a wide variety of attractions, points of interest, historic sites, state and
national parks found throughout the United States. Each photo feature is coupled with a brief explanation.
For further detailed information, links to other related sites are provided.
Pricketts Fort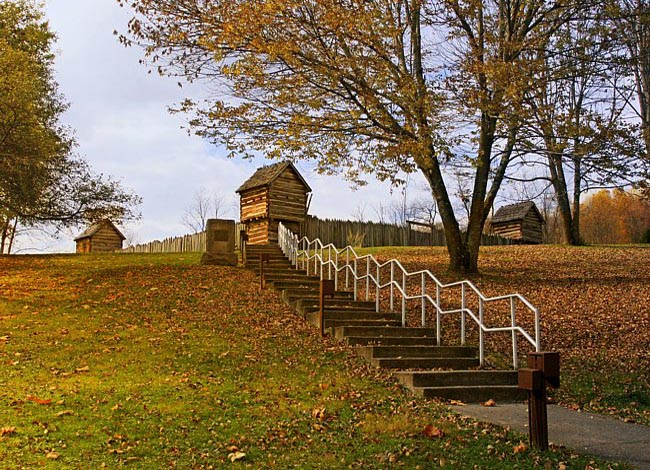 Appearing as the original Pricketts Fort, this recreation is viewed as one of West Virginia's most unique historic museums. The living history style exhibits explain the dangers and domestic activities of frontier living in West Virginia. The fort, named after Captain Jacob Prickett, is operated by Pricketts Fort Memorial Foundation. Besides the educational and historic values, the park offers typical amenities, such as nature trails, biking paths, picnic areas and an outdoor amphitheater.
The original fort was built in 1774, overlooking the confluence of Prickett's Creek and the Monongahela River. Built by the community militia, the fort provided protection from Indian attacks. The fort was surrounded with 12 foot high walls and set off by two story blockhouses, located in each corner. Tiny cabins, a meeting house and storeroom are found inside the two large entrance gates. Some 80 families in area were quick to gather, or what they called forting up, when threats of attack seemed imminent.
Job Prickett, great grandson of Captain Prickett, built his home nearby the fort in 1859. Today's restored structure was occupied by the Prickett family until the 1960s. A combination of Federal Style and Greek Revival is seen in the brick home's exterior. Many of the family's original furnishings have been preserved and are displayed throughout the home.
Copyright ©2009 Benjamin Prepelka
All Rights Reserved