Scenic USA - California
Scenic USA offers a collection of select photographs from a wide variety of historic sites, points of interest, and a large
sampling of America's parklands. Each photo feature is coupled with a brief explanation.
For further detailed information, links to other related sites are provided, but in no means should they be considered an endorsement.
Bottle Tree Ranch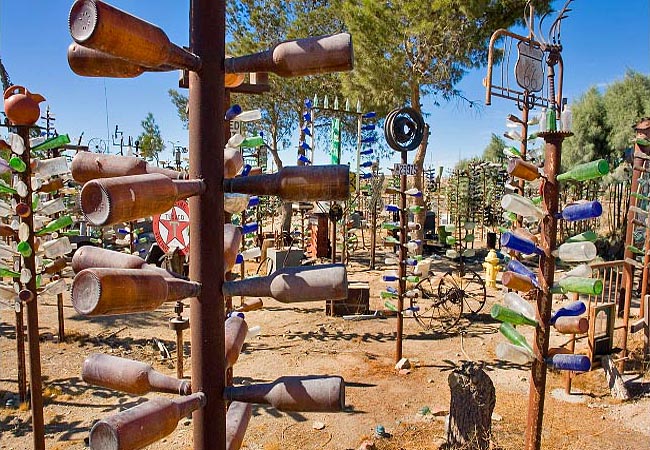 From the outskirts of Los Angeles and San Bernardino, Interstate 15 heads northward through the San Bernardino National Forest and climbs into the San Gabriel Mountains. After the high point at Cajon Summit, the highway drops into the Mojave Desert. Here at Victorville, sightseers may leave the super highway and follow along a section of old Route 66. Between Victorville and Barstow you may take in the Mojave's serenity, a peaceful break from the metro area to the southwest. Here among the desert's canyons, mountains and mesa, expect to find old homesteads, abandoned towns and mines, clear skies, and strong winds.
Even though precipitation is sparse, Joshua trees, juniper and mesquite are scattered throughout the desert. Catclaw, desert willow, cheesbush and cottonwoods line the dry washes. One thing you may never expect is a bottle tree forest. Nearby Oro Grande Elmer Long, the bottle man, has kept the family tradition alive. Now retired, Elmer delights in his roadside attraction. Inheriting a bottle collection from his father, Elmer decided to fill his two acre site with steel trees, decorated with bottle leaves. Tickled by the desert winds, the bottle trees seem to play their own brand of symphony.
Most of the old Route 66 restaurants, motels and gas stations are closed, some lying in ruins, but to Route 66 fans this section of the Mother Road is a little extra special because of Elmer Long.
Copyright ©2011 Benjamin Prepelka
All Rights Reserved