Scenic USA - Virginia
Scenic USA offers a collection of select photographs from a wide variety of attractions, points of interest, historic sites, state parks and
national parks found throughout the United States. Each photo feature is coupled with a brief explanation.
For further detailed information, links to other related sites are provided.
Tomb of the Unknowns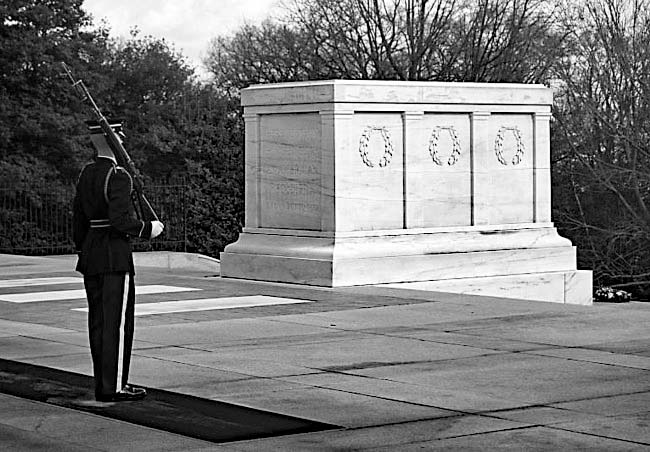 Even before the conclusion of the Civil War, Confederate General Robert E. Lee's family property had been taken for a cemetery. By war's end 16,000 craves dotted the hillsides around the mansion. From the Arlington House portico, an official day of remembrance was issued in 1868.
Today, Arlington National Cemetery is the final resting place for nearly 300,000 service members and their family members. Best known of all the national cemeteries, the Memorial Amphitheater is one of the most popular stops at Arlington. The amphitheater hosts both Memorial Day and Veterans Day services. Just to the west of the amphitheater is the Tomb of the Unknowns. The Tomb, containing the remains of WWI, WWII, Korean War, and the Vietnam unknown American soldiers, is protected by Tomb Guard Sentinels (The Old Guard). Specially trained members of the 3rd U.S. Infantry maintain a vigil around the clock, with a Changing of the Guard every hour (on the half hour from April through September). The sarcophagus inscription reads, Here rests in honored glory an American soldier known but to God.
Copyright ©2010 Benjamin Prepelka
All Rights Reserved