Scenic USA - Hawaii
Scenic USA offers a collection of select photographs from a wide variety of historic sites, points of interest, and a large
sampling of America's parklands. Each photo feature is coupled with a brief explanation.
For further detailed information, links to other related sites are provided, but in no means should they be considered an endorsement.
Mauna Kea Beach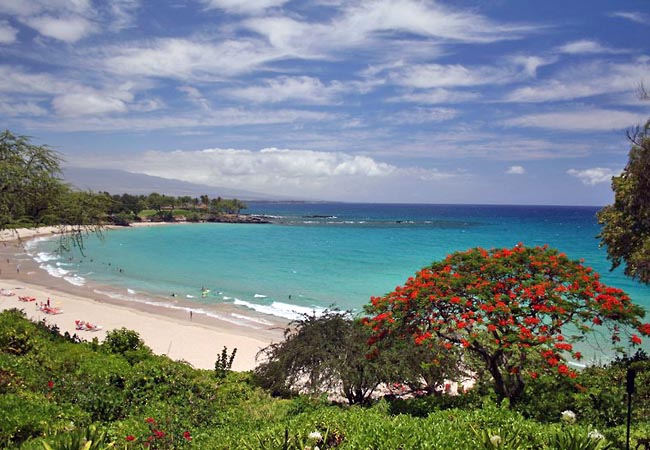 According to ancient mythology, Hawaiian mountain peaks are sacred and off-limits to all but a few tribal chiefs. Hawaii's Mauna Kea, the Big Island's tallest peak, was the most sacred of all. Mauna Kea, a dormant volcano, lends its name to a little slice of heaven on the Kohala Coast. Surrounded by private homes and the Mauna Kea Beach Resort, it's easily understood why the Mauna Kea Beach is rarely visited by island guests. The inside scoop suggests visitors drive up to the main gate of the Mauna Kea Beach Resort and let the attendant know you'd like to visit the beach. Your free parking permit and map to the beach is the beginning of a beautiful day. Considered as one of Hawaii's best beaches, Mauna Kea's small bay, gentle seas and white sandy beach creates a string of adjectives that include awesome, beautiful and the next best thing to paradise.
The Mauna Kea Beach Hotel was first opened in 1965. Lying in the shadows of Mauna Kea, hotel construction was financed by Laurence S. Rockefeller. Following construction, its modern design was mimicked up and down the Kohala Coast. After suffering considerable damage in a 2006 earthquake, the resort underwent a 150 million dollar renovation. Luckily for the public, multi-year negotiations have allowed access to this wonderful beach.
Copyright ©2011 Benjamin Prepelka
All Rights Reserved