Scenic USA - Nevada
Scenic USA offers a collection of select photographs from a wide variety of attractions, points of interest, historic sites, state and
national parks found throughout the United States. Each photo feature is coupled with a brief explanation.
For further detailed information, links to other related sites are provided.
Valley of Fire Highway
Sandwiched between Lake Mead and I-15, the Valley of Fire is one of Nevada's oldest state parks.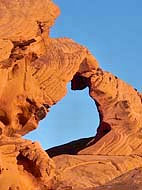 The park, established in 1935, is overlaid in rock arches, 1,500 year old rock art (petroglyphs) and petrified logs. Named for its brilliant sandstone formations, easy hiking trails lead to points of interest not found alongside the park road.
This preview of the park is found along the Valley of Fire Highway. The evening sun casts its long shadows across a land that's dominated by the creosote bush, burro bush and the brittle bush. Several species of cactus and wild flowers brighten up the red rock desert. Most desert animals are nocturnal, unseen by park visitors. Lizards and snakes are common, and occasionally visitors may spot a kit fox, spotted skunk, jackrabbit, and the antelope ground squirrel.
Copyright ©2006-2009 Benjamin Prepelka
All Rights Reserved