Scenic USA - New Mexico
Scenic USA offers a collection of select photographs from a wide variety of attractions, points of interest, historic sites, state and
national parks found throughout the United States. Each photo feature is coupled with a brief explanation.
For further detailed information, links to other related sites are provided.
Chaco Canyon Community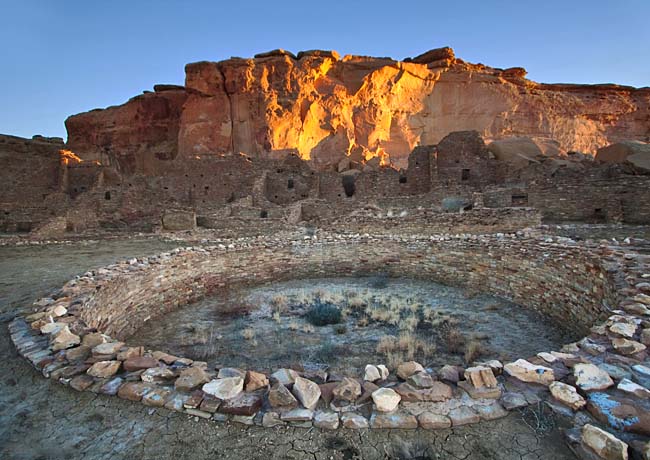 Located in a remote corner of New Mexico's northwest, halfway between Farmington and Albuquerque, lies one of the most exceptional concentrations of ancient Native American dwellings. Chaco Culture National Historical Park preserves 15 major complexes and nearly 4,000 archeological sites. Beginning in 850 A.D., the Chaco Culture survived here for 400 years. With no written records, the Chacoan history is pieced together from discarded fragments.
Although the main draw to this park is the intriguing sandstone dwellings, the Chaco Canyon cannot be ignored. With a desert-like climate, the area sees no more than ten inches of annual rainfall. The canyon floor, once cut by the Chaco Wash, has slowly been accumulating alluvium fill over the last 40,000 years. Surrounded by seemingly endless sandstone mesas, small side canyons (rincons) appear as slices into the high cliff walls. This Four Corners Region, dominated by Hopi and Navajo reservations, has always been plagued by sparse rainfall; but a 50 year drought, beginning in 1125 A.D., is thought to have ended this thriving Chaco Canyon community.
Copyright ©2008 Benjamin Prepelka
All Rights Reserved