Scenic USA - West Virginia
Scenic USA offers a collection of select photographs from a wide variety of historic sites, points of interest, and both state and
national parks found throughout the United States. Each photo feature is coupled with a brief explanation.
For further detailed information, links to other related sites are provided, but in no means are they an endorsement.
A Christmas to Remember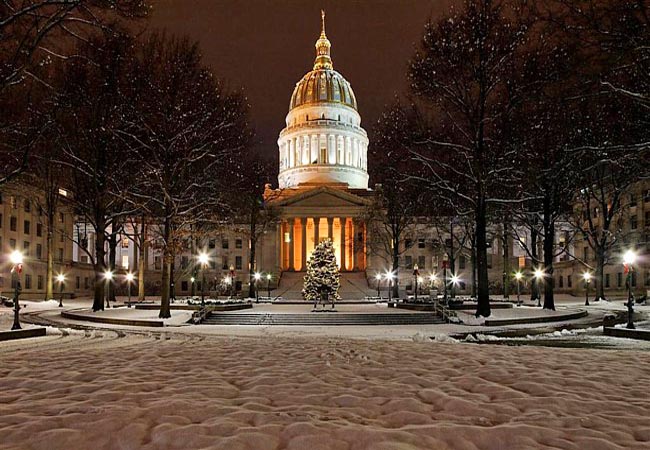 For those in the Mid-Atlantic States hoping for a White Christmas in 2009 certainly received their wish, albeit a few days early and a whole lot more than was bargained for. On December 16, 2009, meteorologists detected a large storm forming in the Gulf of Mexico. After producing heavy rains in Texas, the storm moved eastward into Georgia and Florida, destined for the Mid-Atlantic region. Continuing northward, the storm retained its heavy moisture and met with ice cold air. Low pressure developed off the Atlantic coast, steering the storm northward and delivering a record setting snowfall. Areas around Long Island and Roanoke totaled nearly 2 feet of heavy snow, as the blizzard headed northward toward New England. Labeled as a category 5, record setting totals stretched out along the eastern coast, snapping power lines, snarling traffic, and playing havoc with last minute Christmas shoppers.
Here in West Virginia's capital city, all was quiet in the wee hours of the morning of the 20th. The lights were still shinning surrounding the capitol building, although power outages plagued the area. Built of Indiana limestone and tons of structural steel, capitol complex construction dates back to 1936. Although it's not easy to detect in this beautiful night scene, its magnificent dome is gilded with 14 karat gold leaf. Topping out at 293 feet, the capitol building is the tallest in Charleston as well as the state. Although some Christmas gifts may have been late that year, the tiny set of footprints on the capitol steps remind us all of what's really important in our lives.
Copyright ©2010 Benjamin Prepelka
All Rights Reserved