Scenic USA - Hawaii
Scenic USA offers a collection of select photographs from a wide variety of attractions, points of interest, historic sites, state parks and
national parks found throughout the United States. Each photo feature is coupled with a brief explanation.
For further detailed information, links to other related sites are provided.
Pali Overlook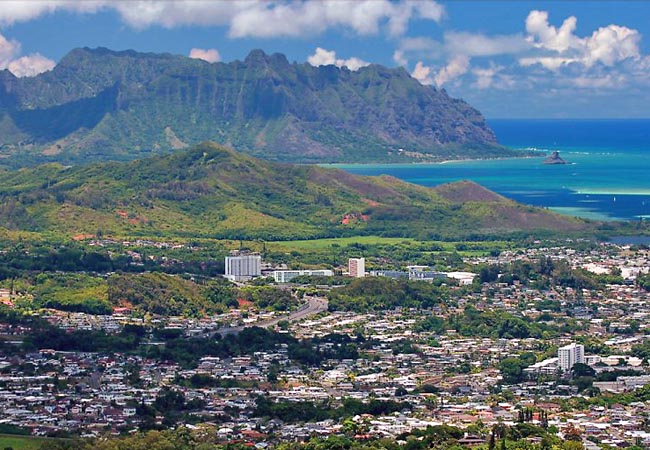 O'ahuís Route 61, stretching across the southern tip of the island from Kailua to Honolulu, leads to one of the most spectacular overlooks on the island. Here from the Nu'uanu Pali State Wayside Park, on top a 1,000 foot cliff, a lofty viewpoint looks out over Kaneohe, Kailua, Chinamanís Hat and Kailua Point.
The first highway to Pali Lookout was built in 1898, with a few remnants of this old highway still in existence. During construction more than 800 human skulls and countless bone were uncovered. This was the site of a great battle. History shows Kamehameha I invaded the Island of Oahu in 1795, after consolidating power on Hawaii (the big island). Kamehameha, raised in the Waipi'o Valley and earning the nickname of lonely one, went on to unite the entire island chain under his rule. Using western style battle tactics from the English, Kamehameha arrived by boat and lead his army into battle at Nu'uanu Valley. Eventually, the invaders drove Kalanikupleís forces over the cliff at Pali Lookout.
Here at the overlook a stiff wind may catch first time visitors by surprise. The lower end of the viewpoint leads to Old Pali Highway, and offers a different perspective of todayís cities and yesteryears history. Chills here may be from a cool Pacific trade wind, or perhaps it's the thoughts of thousands plunging to their deaths at Pali Overlook.
Copyright ©2010 Benjamin Prepelka
All Rights Reserved