Scenic USA - Wyoming
Scenic USA offers a collection of select photographs from a wide variety of attractions, points of interest, historic sites, state and
national parks found throughout the United States. Each photo feature is coupled with a brief explanation.
For further detailed information, links to other related sites are provided.
Lake Solitude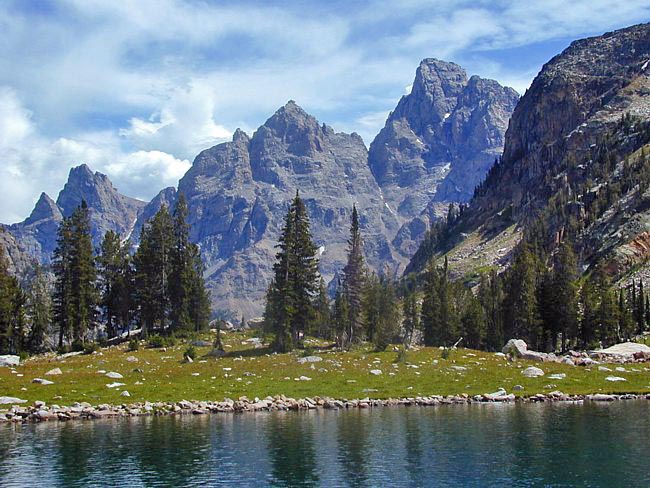 Grand Teton National Park, famous for a handful of peaks that soar over 12,000 feet, centers around Wyoming's huge Jackson Lake. The Tetons, left unobstructed by foreground foothills, project a magnificent sight. Unfortunately, the highway passes through the heart of the park and quite often visitors stop to see the Tetons, then scurry on by the remainder of the park, anxious to see neighboring Yellowstone.
The Teton Park, with its challenging terrain, may scare off all by the true adventurers. Most visitors see a limited part of the park, skipping views from the alpine trails and Route 191, that follows the Snake River for miles.
Deep within the Teton Mountains are a dozen interlaced highland trails. Some continue westward into Winegar Hole and Jedediah Smith Wilderness lands. The Paintbrush Canyon Trail, starting out near Jenny Lake, makes for a challenging loop hike, passing by Holly Lake and on to Solitude Lake, and eventually returning by way of Cascade Canyon. This special view of Solitude Lake marks the halfway point on the loop and hikers must stop and soak up the wonderful, scenic view.
Copyright ©2007 Benjamin Prepelka
All Rights Reserved