Scenic USA - Wyoming
Scenic USA offers a collection of select photographs from a wide variety of attractions, points of interest, historic sites, state and
national parks found throughout the United States. Each photo feature is coupled with a brief explanation.
For further detailed information, links to other related sites are provided.
Mount Moran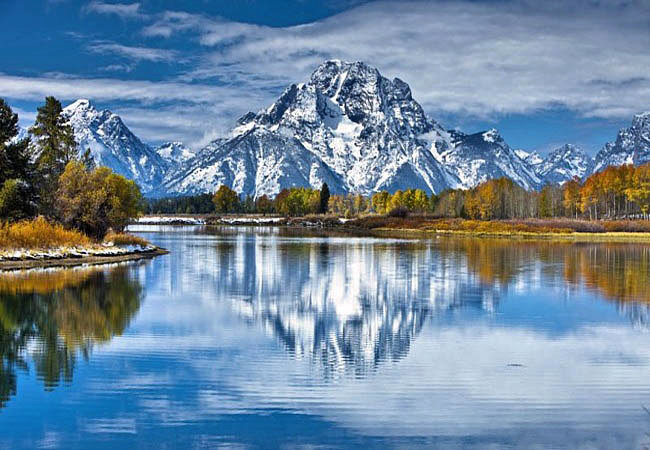 Wyoming, a land with few manmade attractions today, promotes its natural appeal as the first state in outdoor America. Its scenic wonders stretch across the state from Devils Tower to Yellowstone National Park. First witnessed by a group of adventurous fur traders in the 1800s, the area surrounding the crossroads at Jackson Hole was introduced to America through the paintings of Thomas Moran. Forever linked with the Rocky Mountain School of landscape painters, Moran received his first artistic training in Philadelphia, later heading westward. During the 1870s and 80s, Moran gained national notoriety when his western landscapes appeared in major publications.
Mount Moran, a tribute to the artist, stands at the northern end of the Teton Range. This striking scene of Mount Moran gives a strong indicator why the Grand Tetons National Parks has captured so much attention. Reaching 12,605 feet, the mountain's distinctive flat top makes Moran the easiest peak to spot along the Teton Range.
This majestic mountain scenery still captivates the artist of today. Thanks to visionary John D. Rockefeller Jr., this parkland attracts more than four million people a year. This popular scene takes in an oxbow lake of the Snake River just east of Jackson Lake. Here the artist awaits calm waters to capture a spellbinding reflective scene.
Copyright ©2006-2009 Benjamin Prepelka
All Rights Reserved