Scenic USA - Utah
Scenic USA offers a collection of select photographs from a wide variety of attractions, points of interest, historic sites, state parks and
national parks found throughout the United States. Each photo feature is coupled with a brief explanation.
For further detailed information, links to other related sites are provided.
View from The Hogback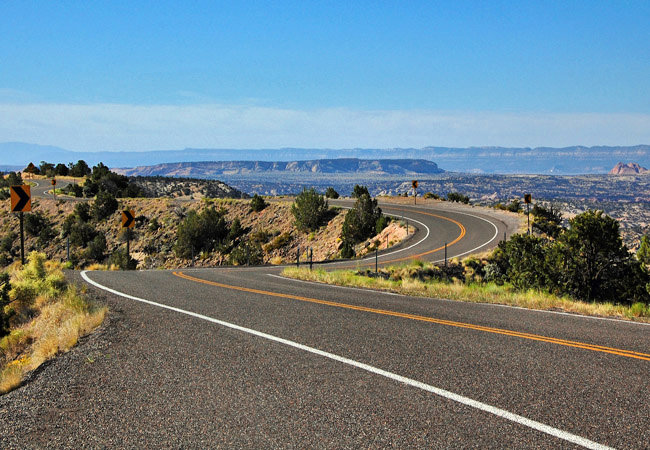 One of the wildest and most scenic highways of south-central Utah was completed by the Civilian Conservation Corps in 1940. Designated as an All American Road, the Clem Church Memorial Highway passes through some of the most rugged lands of Utah. Once called the Million Dollar Road to Boulder, SR 12 finally brought in mail service by auto, rather than mule train. Though little remains of Camp FS-18, the CCC's legacy includes two hair-raising roads through the Escalante Canyons. Hells Backbone Bridge was called the Poison Road, since falling over an 800 drop-off meant certain death. The 109 foot bridge was completed in just six weeks.
Stretching across the northern boundary of Escalante National Monument, Route 12 connects U.S. Route 89 with Torrey and Route 24. This byway passes countless scenic viewpoints, including Red Canyon, Bryce Canyon, Boulder Overlook, Calf Creek Falls, and this rugged view from The Hogback. Six additional side roads lead to another round of must see scenic stops, including this string of interesting names: Kodachrome Basin, Box Death Hollow, Cottonwood Wash Narrows and Hells Backbone.
Some of the most thrilling miles pass over the crest of Hogback Ridge. When your head stops spinning in circles (i.e. Linda Blair), you'll find a sense of amazement rushes through your mind. How anyone could built this narrow road, with immediate drop-offs to each side, is any one's guess. No guard rails, no pullouts; flatlanders will have a death grip on the steering wheel and cyclists wish for a lower gear. Imagine biking these 14 percent grades along this route; a punishing trip, but memories of Utah's dramatic scenery make it worth the effort.
Copyright ©2010 Benjamin Prepelka
All Rights Reserved