Scenic USA - New York
Scenic USA offers a collection of select photographs from a wide variety of historic sites, points of interest, and a large
sampling of America's parklands. Each photo feature is coupled with a brief explanation.
For further detailed information, links to other related sites are provided, but in no means should they be considered an endorsement.
Waryas Park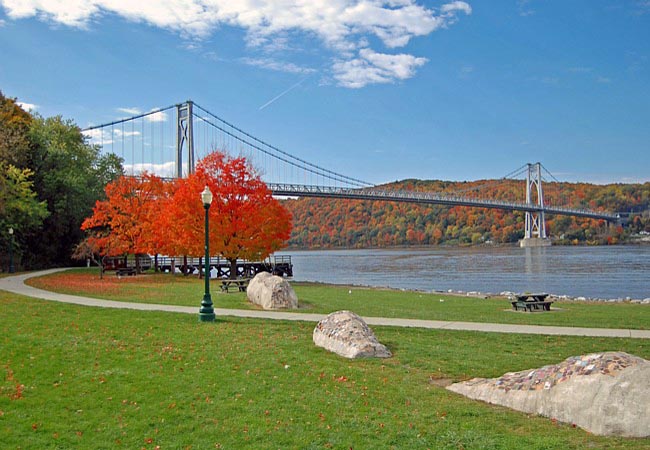 Tucked in between Amtrak rails and the Hudson River, Poughkeepsie's Victor C.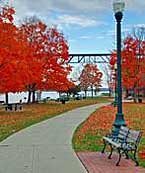 Waryas Park offers a quiet little get-away in a busy city. This view, brightened with fall's glowing maples, captures a freshly painted Mid-Hudson Bridge, refurbished during a lead abatement project. Renamed in 1994 to recognize former resident, governor and president, the bridge now sees the prefix Franklin D. Roosevelt. Completed in 1930, the bridge received plenty of attention, often noted as superbly beautiful, and one of the very finest suspension bridges anywhere.
Here in Waryas Park you'll often find a small lunch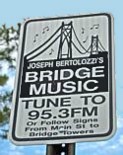 crowd during the week. A pleasant place to break away from the office setting, one can enjoy the sights and sounds along the Hudson River. Graced with flowing sidewalks and plenty of park benches, the river walk park may be one of the area's best secrets.
Lost to all but the very inquisitive, a small street sign suggests tuning to 95.3 FM and listening to Joseph Bertolozzi's Bridge Music. Created for New York's 400th Anniversary of Henry Hudson's Expedition up the river, local composer Bertolozzi used the bridge itself to create bridge music. Perhaps the first ever suspension bridge music ever recorded on CD, the collection made its debut at #18 on the Billboard Classical Crossover Music Charts. Don't know what to expect? Give a listen.
Copyright ©2011 Benjamin Prepelka
All Rights Reserved